AIRMEXT
AIRMEXT® / SN X5(V2) /air management Top Grade Air suspension system Electronic Controll System/pneumatic/airlift
AIRMEXT Top Grade air management kit
Type No:
---
Electronically controlled air suspension system, also known as the control unit is the core part of the air suspension system and electric control system has the versatility, can be applied to all models, electronic control system for the button panel , wireless remote control lift, have both before and after lifting function, supporting ECU to control computer, key-press panel and ECU, the ECU and solenoid valve only need a cable to plug connection between line, wiring simple. Want to know detailed content can also be the message consulting with businesses.
Features:
---- Four wheels independently controlled (RISE/DROP)
* Front 2 wheels Rise/Drop at same time
* Rear 2 wheels Rise/Drop at same time
* 4 Wheels Rise/Drop at same time
-----Four wheels Slightly adjustable
---- wired controller
----Cellphone APP control (IOS and Android available)
----12 kinds of language adjustable : Chinese, Traditional Chinese,English, Japanese,Spainish,French,Thai,Korean,Russian,Dutch,Germany,Arabic
---- 5-Level height memory preseted /adjustable
----Password changable
---- Long press up/down button to the end
---- LED Display for Pressure (PSI)
Display precision : up to 1 PSI
Memory accuracy: up to 3 PSI
---- Automatical Security Checking & Adjusting
---- Whole stroke of car body RISE/ DROP (5.9'')
CONFIGURATION LIST:
1, AIRMEXT wired controller *1 piece
2, AIRMEXT Integrated ECU+Manifold solenoid Valve group unit * 1 piece
3, AIRMEXT RELAY * 1 piece
4.Signal Receiver: 1 piece
5.connecting electric wire + air fittings&connectors: 1 set
6. Instruction Manual : 1 piece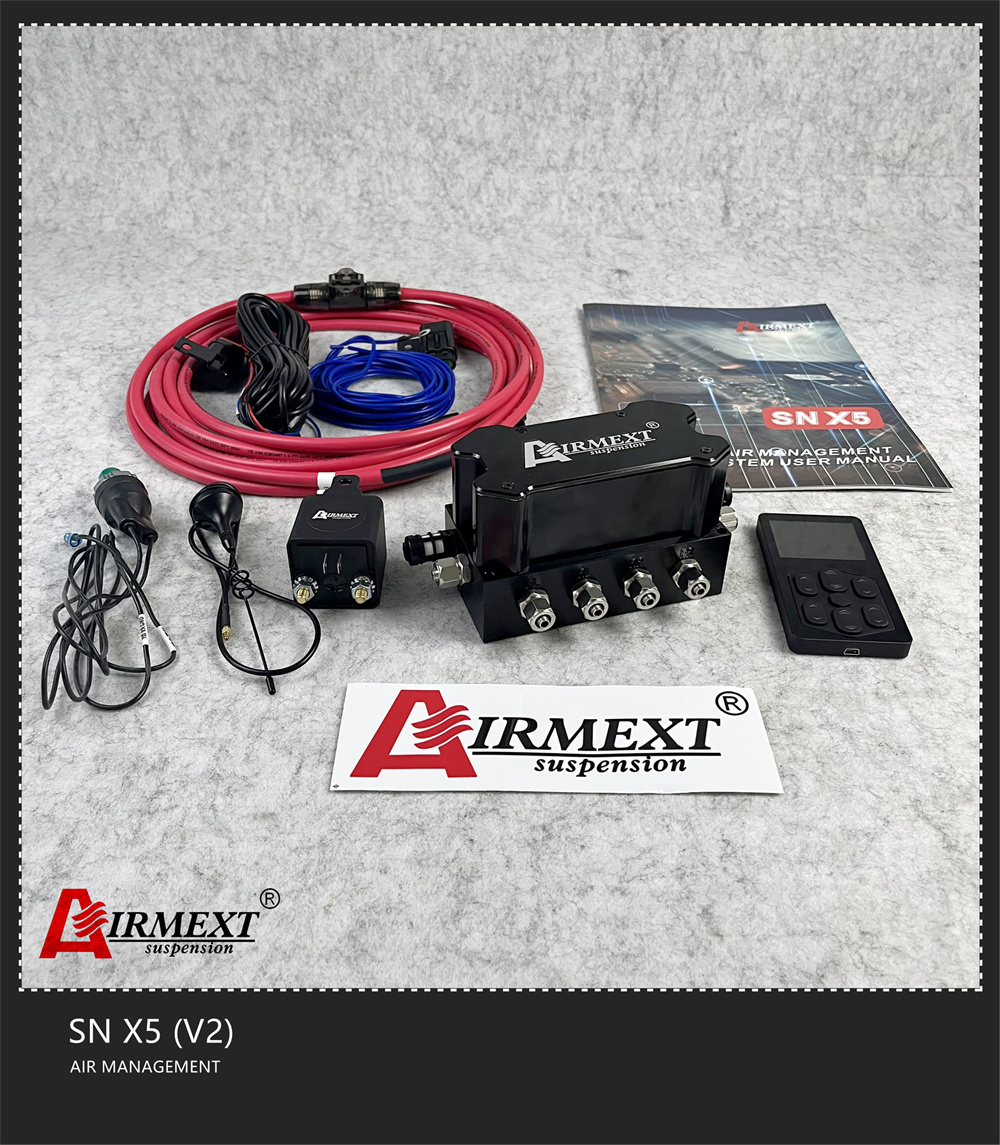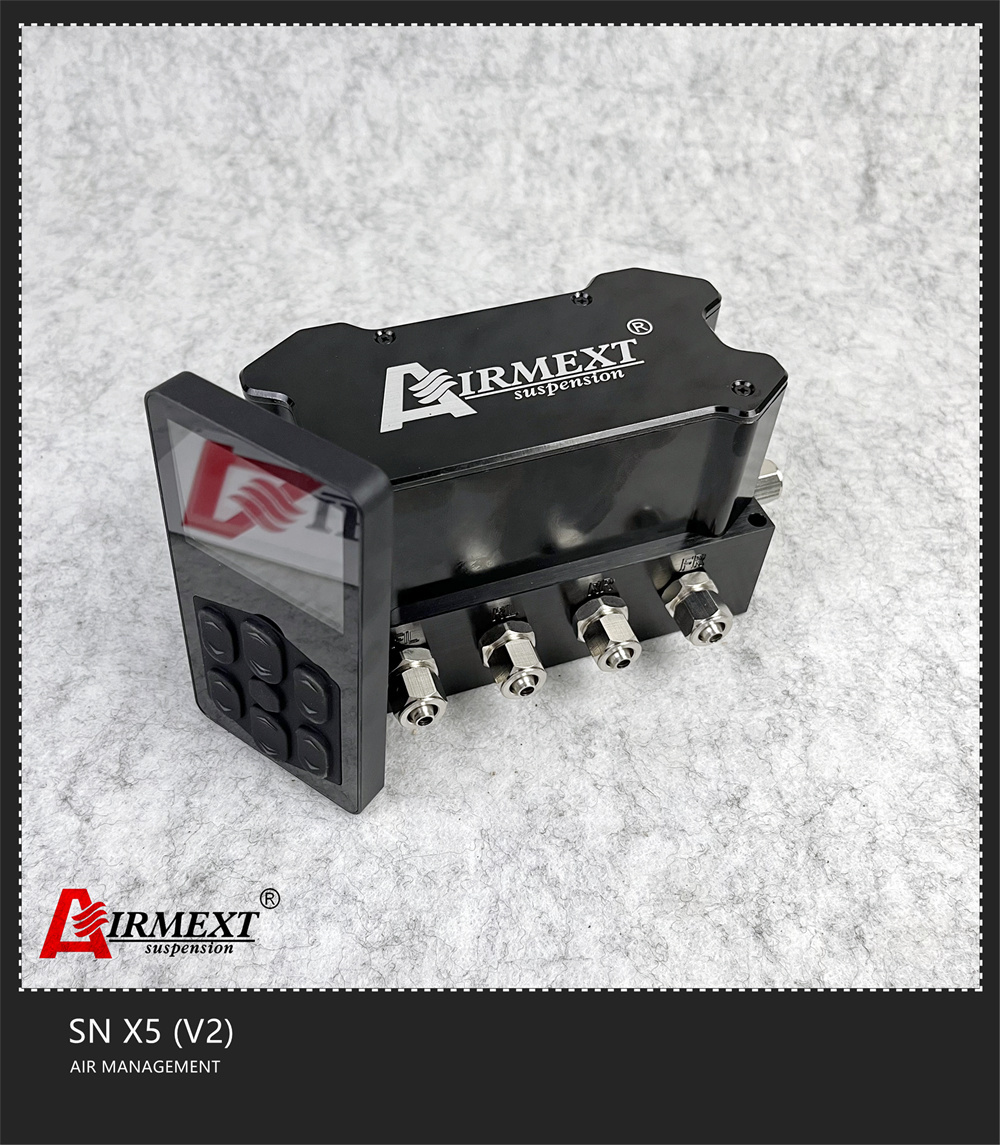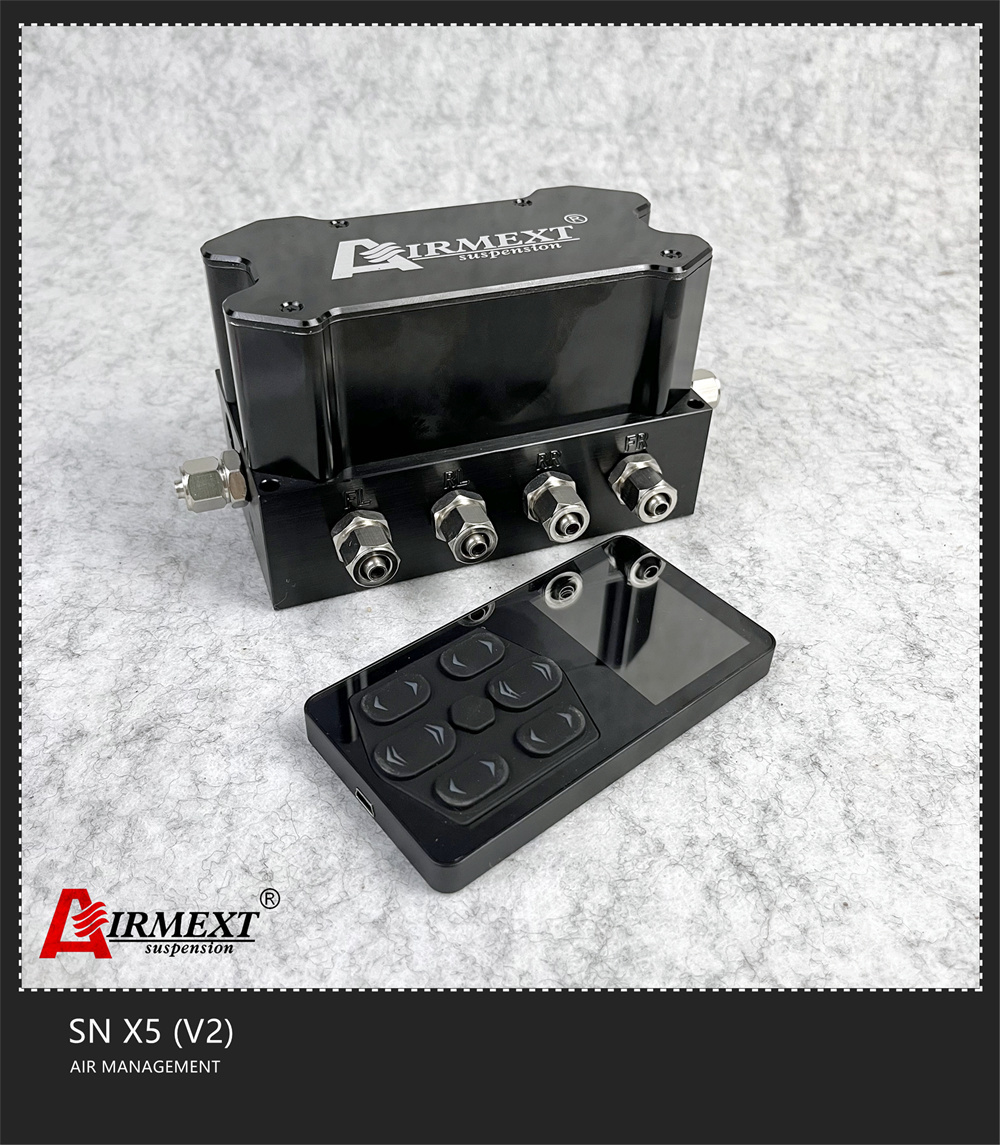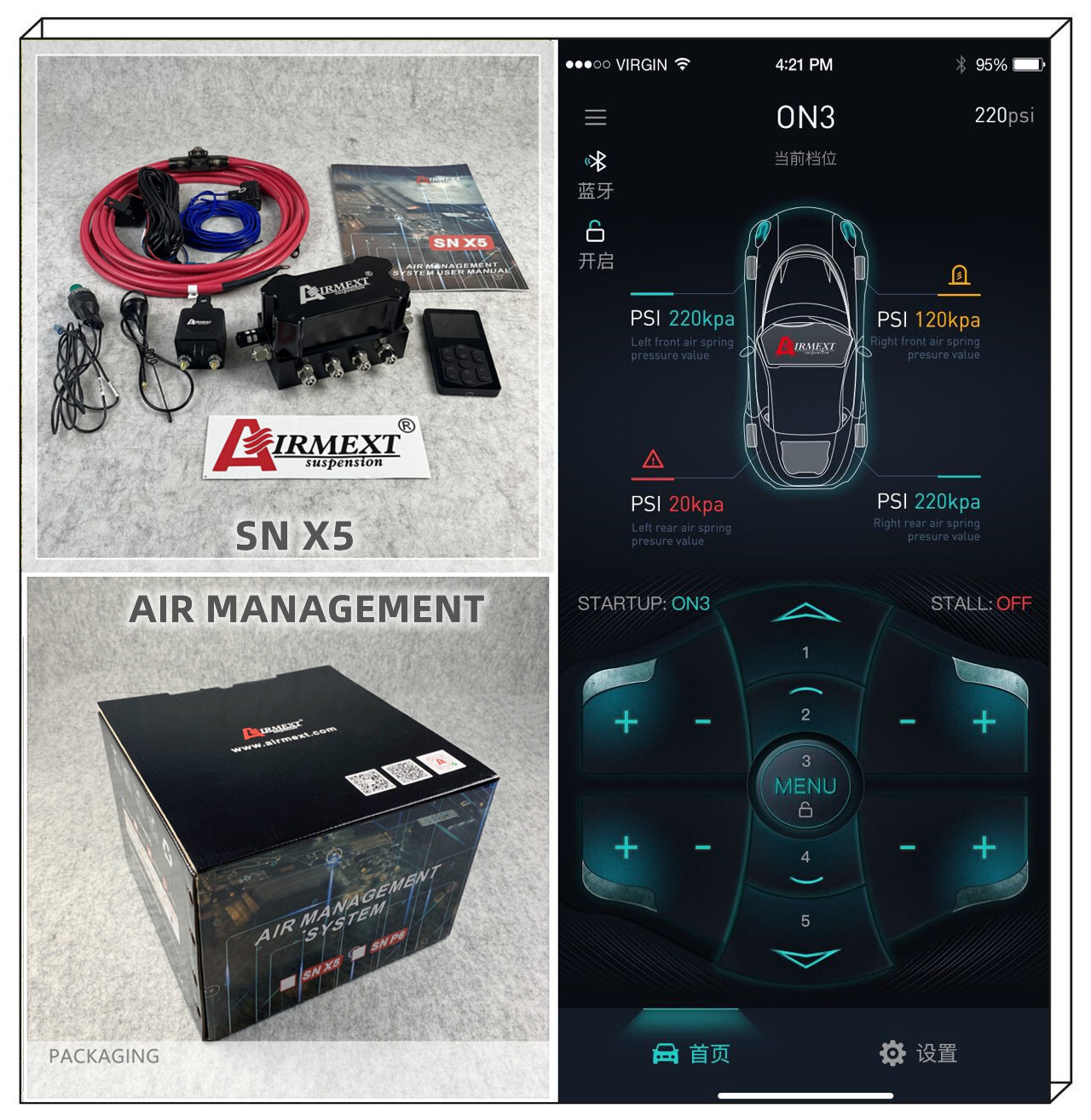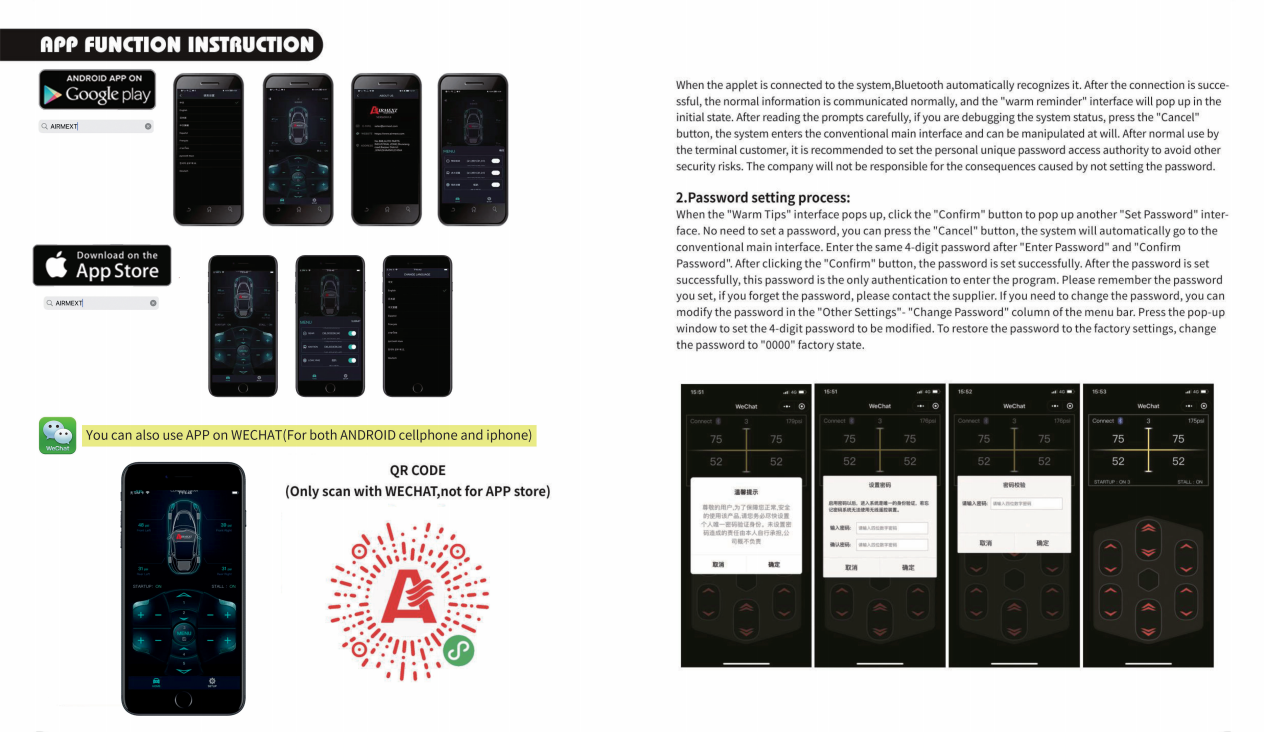 NEW APP for SN X5 for APP Store and Google Play ,OR download at our official website
AIRMEXT SN X5-- Integrated ECU+Manifold solenoid Valve group unit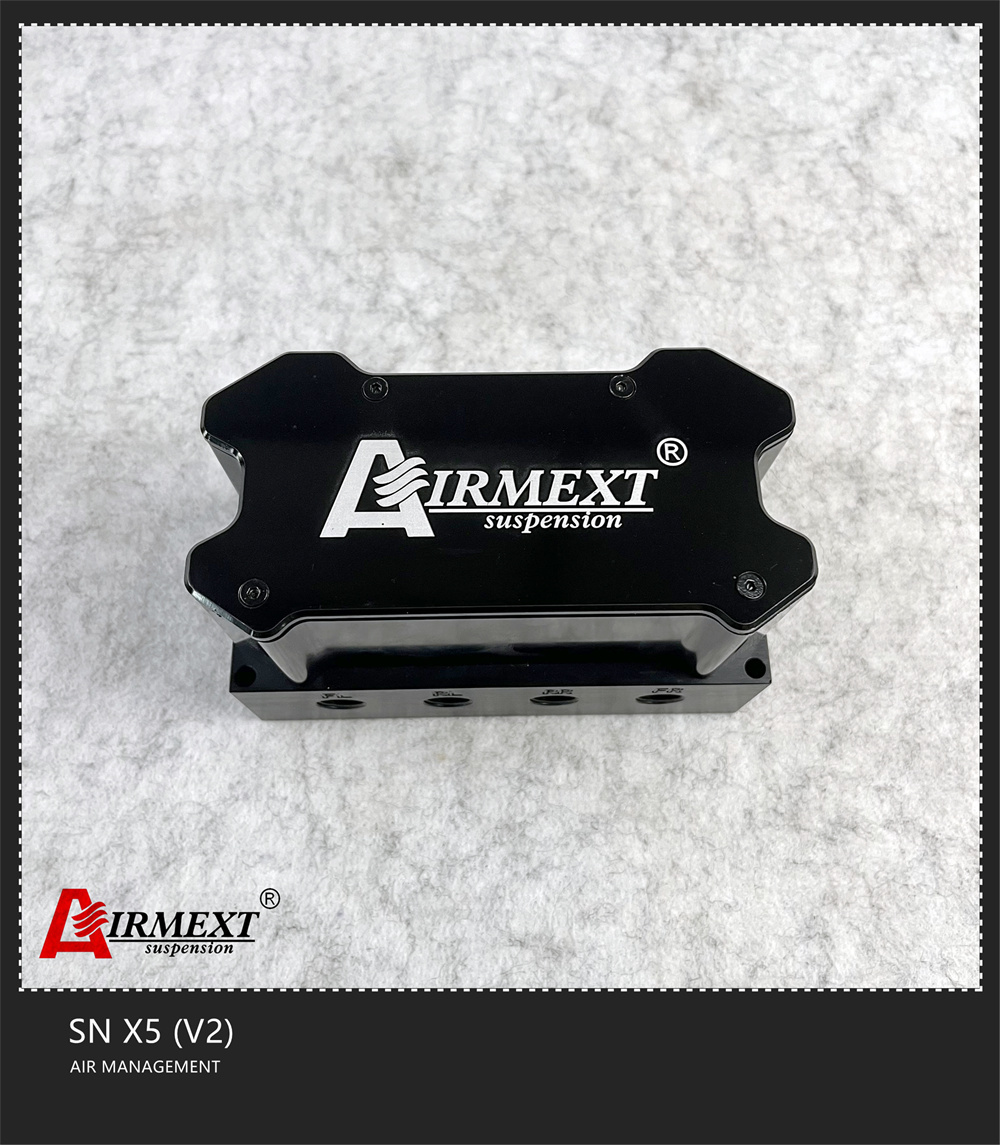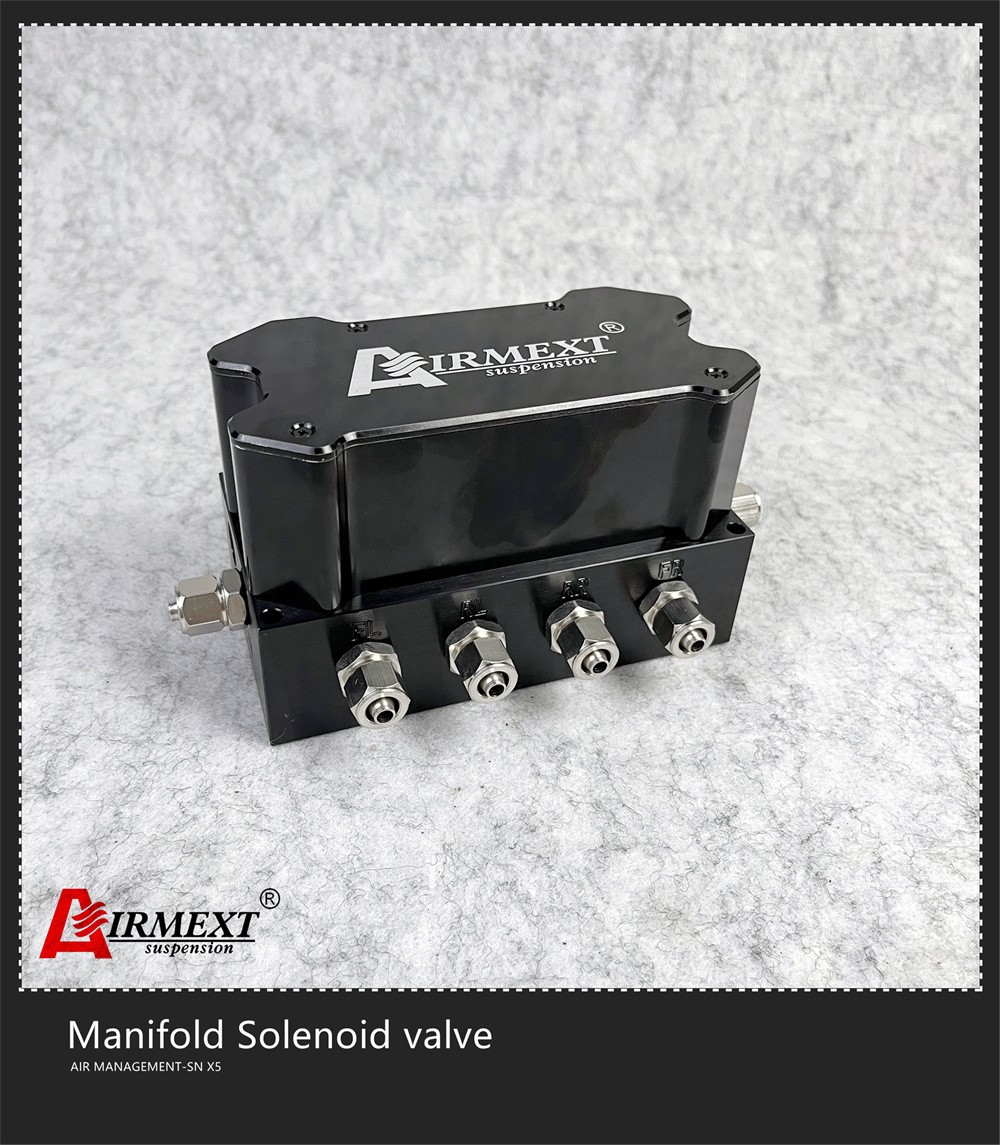 AIRMEXT SN X5---Wired controller (Connected with USB cable in car, separate from Bluetooth APP function wireless controlling)

4-PLY LAYER STRUCTURE MAKE AIR SPRING STRONG AND DURABLE ENOUGH !
PERFECT &NICE WORKMANSHIP OF AIR SPRING RUBBER BELLOW (Original photos without any beautifying)
PERFECT & NICE WORKMANSHIP OF SHOCK ABSORBER (Original photos without any beautifying)
FINISHED PRODUCTS
SORTING GOODS FOR DIFFERENT CUSTOMERS
OUR FACTORY OVERVIEW
D=DIAMETERH=HEIGHT
If you cannot find fitted air spring for your coilover in our store,how to do?
FIRST STEP: Which one I,II,III,IV looks like yours?
SECOND STEP: Before make order,pls tell your coilover brand or try to measure your damper strut size as per our drawingrequired [A=? B=? C=? D=? (1)=?(2)=? ],we will customize the air spring fitted with your coilover
Customer Reviews (6)
5 Stars

83%

4 Stars

0%

3 Stars

0%

2 Stars

0%

1 Star

17%
at first sight a well manufactured product . great details . hope it work like it looks . i like the qualiti of the material . 10

super vendeur. il est disponible à l'écoute et prêt à résoudre tout problème s'il y en a. la qualité est exceptionnelle et bonne. je mettrai des photos supplémentaires une fois que j'aurai posais tout cela. je conseille ce vendeur. le seul bémol est que du UPS sont lents ils m'ont rajouter une taxe douanière de 51 €. Mais ça en vaut le coup le matériel est super ça ira parfaitement avec mes amortisseurs Airlift. j'ai regardé sur internet la marque Airmext est une marque connue et réputée.

15 Feb 2022 20:41

great communication and fast shipping.

15 Mar 2022 01:10

Color:

SN X5

物流

AliExpress Standard Shipping

Everything looks great, very happy and looking forward to fitting

08 Feb 2022 17:48

day til romania

13 Oct 2021 08:21
Brand Name:

AIRMEXT
Origin:

CN(Origin)
Type:

Air Pressure
ITEM NAME:

AIRMEXT top grade air management
Product No:

SN X5
Car model fitment:

all car types need to update air suspension
WARRANTY:

12 months for non-human damage
condition:

brand new

Your cart is currently empty.